About us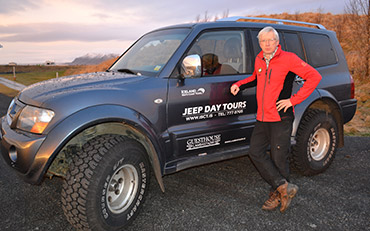 Iceland South Coast Travel is a small family company specialised in organising guided day tours in South Iceland. The jeeps are comfortable and well equipped four wheel drive and the driver is also the guide (driver-guide). We recommend group sizes of 2 – 6 persons per tour. On this website we would like to give you an idea of tours in South Iceland but we can take you wherever you want your ideas and interests to carry you!
Landmannalaugar is the most popular day tour. This pearl of the interior up in the high land is situated in a valley between colourful mountains at the dark edge of the rhyolite lava field Laugahraun. Many hot and cold springs create a warm bathing brook, in the middle of this spectacular setting. We highly recommend this day tour.
The Golden Circle and then the South Coast tours are also day tours you should not miss. If you are staying in the area South Iceland we can drive the South Coast to the lagoon Jokulsarlon but that is a long day tour. We do not offer this tour from Reykajvik.
We can add to our tours a horse ride on the famous Icelandic horse, snow mobile tour, dog sledding, snorkeling or other activities, just let us know where you want your ideas and interests to carry you! For closer look at our tours, look at the information here on our website or contact us by email.
Our email is: info@isct.is
We will respond to all requests within 24 hours
Brgds.
Almar Sigurðsson
Founder / Owner / General Manager