Landmannalaugar from Hella – Jeep Day tour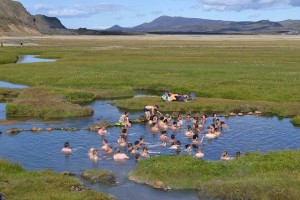 Landmannalaugar jeep day tour is our most popular tour during summer. Landmannalaugar, the pearl of the interior is situated in a valley between colorful mountains at the dark edge of the rhyolite lava field Laugahraun. Many hot and cold springs create a warm bathing brook, in the middle of this spectacular setting.
We begin with driving from Hella, east to the rock ledge Gaukshofdi. There, we have a good view towards the active volcano Mt. Hekla. Hekla is one of Iceland's most active volcanoes, over 20 eruptions have occurred in and around the volcano since 874. During the Middle Ages, Europeans called the volcano the "Gateway to Hell". We will drive over the valley Thjorsardalur which once became deserted following one of Hekla's eruptions.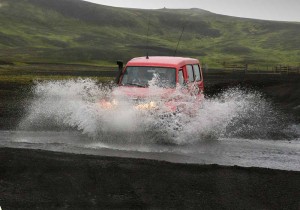 From there we drive to the waterfall Hjalp. The Basalt Figures around the waterfall is beautiful frame of foaming water. Now we will drive to Stöng where there are ruins of a real Viking settlement farm. The farm is believed to have been buried under the volcanic ash in 1104 following the eruption of the volcano Hekla. The Viking Gaukur Þrándilsson lived at Stöng. Our next destination is the small valley Gjáin with its small waterfalls, ponds, and volcanic structures. From there, we drive up to the highland towards Ljotipollur (Ugly pool), a crater formed in a 15th century eruption. As we will be ready at this point for bathing in a hot natural pool or wanting to go hiking, which ever you feel like doing, we now drive to Landmannalaugar. Once we feel energized enough to move on, we drive down Domadalur, a luscious valley just north of the volcano Hekla, and back to your hotel in Hella. In this day tour we will see unusual landscape, in some cases like on the moon.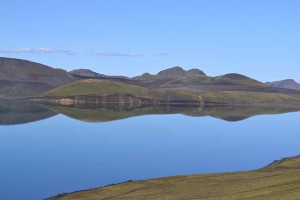 We can expect to see colorful mountains and craters formed in a eruption on the 15th century. Our feeling is, Landmannalaugar jeep day tour is more important than anyone else during summer. The road to Landmannalaugar is only open during the summer months.
Season: From 25th of June until 15th of October
Days of week: Every day up on request.
Departure: 9:00am
Duration: 8 to 10 hours
What to bring: Clothes and shoes according to weather. Swimming suits if you are going for the swim.
Prices
From Hotels in Hella
Price per person= 39.000 ISK
3 pax or more, 10% discount
Min 2 persons in tour
Refreshments not included.