Thorsmork from Guesthouse Lambastadir – Jeep Day tour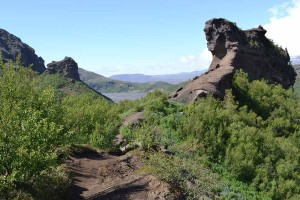 Thorsmork Jeep day tour is an exciting and unforgettable day tour, bringing you good memories of Iceland´s nature. Thorsmork is, from a natural perspective, one of Iceland´s highlights, and therefore a very popular hiking area. It's not easy to get there due to hardly existing roads and unbridged rivers. Therefore, a four wheel drive vehicle is an absolute necessity.
We begin the day by driving from Guesthouse Lambastadir to the waterfall Urridafoss. Urriðafoss is a waterfall located in the river Thjorsa in southwest Iceland and is the watermost waterfall in Iceland. In the early days of power companies, plans were to build a power plant in Urriðafoss and make a railway to Reykjavík from the waterfall. It did not happen but now Landsvirkjun Power is planning to build hydropower stations on the lower part of Þjórsár river, at Urriðafoss and Núpur.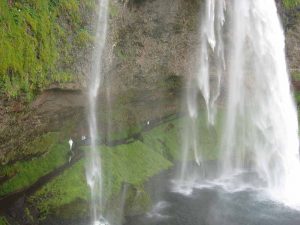 The proposed Urriðafoss Power Plant is expected to have a capacity of approximately 125 MW and a power-generating capacity of 930 GWh per year. The powerhouse will be underground and a tunnel leading from the powerhouse will open out into Þjórsá river below Urriðafoss waterfall. The waterfall is expected to disappear. From Urriðafoss we drive towards east throughout the historical area Rangarvallasysla, where the medieval saga Nalssaga took place. We will stop at Hvolsvollur for a while and then drive to Seljalandsfoss, a beautiful, high waterfall we can walk behind.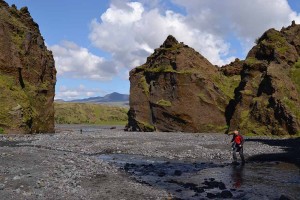 From there, we will be driving over small rivers and creeks towards our next destination Gígjokull. There used to be the glacier lagoon at Gigjokull but after the volcano eruption in Eyjafjallajokull 2010 it was wiped away in melt water flood during the eruption. When we arrive at Thorsmork we can hike through the diverse landscape at the glaciers´ roots. From Thorsmork we head back the same road and stop at Stakkholtsgja canyon for a short while. At last we walk into Nauthúsagil canyon. Adventure hike into narrow canyon where small waterfall is far inside. Now we return back to where we picked you up, Guesthouse Lambastadir. Thorsmork Jeep day tour is a tour that we highly recommend for nature lovers.
Season: All year round
Days of week: Every day up on request
Departure: 9:00am
Duration: 8 to 10 hours
What to bring: Clothes and shoes according to weather
Prices
From Guesthouse Lambastadir
Price per person= 39.000 ISK
3 pax or more, 10% discount
Min 2 persons in tour
Refreshments not included.