The South Coast from Hotel Ranga – Jeep Day tour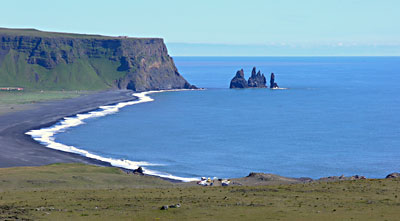 South Coast jeep day tour is a popular day tour in Iceland, which offers a magnificent and diverse experience of Icelandic nature. The black sand beaches, the ocean and the coastline, the glaciers, the bird life during summer and the nation´s history are just examples of what you will experience during this tour.
We begin the day by driving from Hotel Ranga to the waterfall Urridafoss. Urriðafoss is a waterfall located in the river Thjorsá in southwest Iceland and is the watermost waterfall in Iceland. In the early days of power companies plans were to build a power plant in Urriðafoss and make a railway to Reykjavík from the waterfall. It did not happen but now Landsvirkjun Power is planning to build hydropower stations on the lower part of Þjórsár river, at Urriðafoss.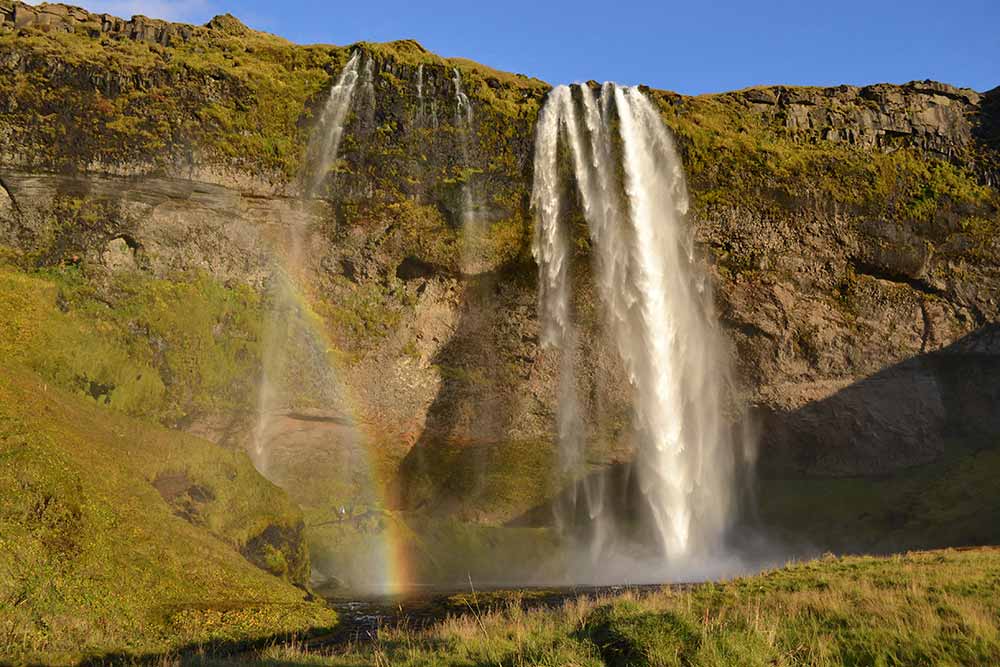 In the community there is no consensus about the project and it is pending. From the waterfall Urridafoss we drive towards east and throughout the historical area Rangarvallasysla, the setting of the medieval saga Njalssaga. We will drive to The Lava Centre in Hvolsvollur. The Lava Centre is an interactive, high-tech educational exhibition depicting volcanic activity, earthquakes and the creation of Iceland over millions of years. We can examine the various volcanos—eruptions and lava flows, volcanic and rift systems, faults and glacial floods that make Iceland a showcase of volcanism. The centre introduces the Katla Geopark plus Iceland's elaborate monitoring system for surveying volcanos and earthquake zones. Now we will drive to Seljalandsfoss, a beautiful, high waterfall we can walk behind and into a small cave. The waterfall drops 60 m (197 ft) and is part of the Seljalands River that has its origin in the volcano glacier Eyjafjallajökull. From there we continue the trip to Skogar, where there is another big waterfall, Skogafoss.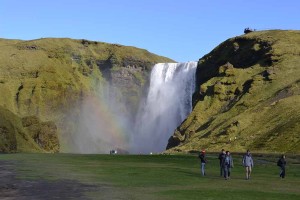 The Skogafoss waterfall is one of the biggest waterfalls in the country with a width of 15 metres (49 feet) and a drop of 60 m (200 ft). Due to the amount of spray the waterfall consistently produces, a single or double rainbow which is normally visible on sunny days. Now we drive to Dyrholaey, a promontory reaching out into the ocean, displaying magnificient birdlife. From Dyrholaey we drive to Vik in Myrdal where we rest for a while. At Vik we can drive or walk by the coastline and visit a souvenir shop, which specialises in woolen clothes. On the way back we will visit Reynisfjara black beach, a beautiful black sand beach under Reynisfjall mountain where there is a large vaulted cavern called Hálsanefshellir. The cave is not deep, but its really beautiful surrounded with amazing basalt columns. In the end we return back to Hotel Ranga. Our suggestion is, do not miss the South Coast jeep day tour.
Season: All year round
Days of week: Every day up on request
Departure: 9:00am
Duration: 8 to 10 hours
What to bring: Clothes and shoes according to weather
Prices
From Hotel Ranga
2 pax = 39.000 ISK per person
3 pax = 33.900 ISK per person
4 pax = 26.500 ISK per person
5 pax = 24.900 ISK per person
6 pax = 22.900 ISK per person
Min 2 persons in tour
Refreshments not included.